How It Works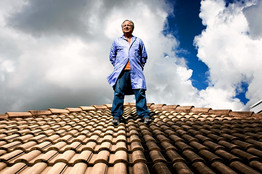 Florida Mold Stoppers uses SMTS™, a two part mold removal and treatment system used to kill mold and prevent it from recurring. Although SMTS is considered a "Green" product, it is extremely effective (and guaranteed).
Part I is an EPA registered, multi-purpose, and anti-microbial solution. It is a bactericide, virucide, disinfectant, fungicide, cleaner, mildew stat and deodorizer.
Part II is our unique, proprietary, patented sealer. The unique combination of ingredients significantly enhances the system's capabilities, making it extremely safe, effective and economical.
Preventative Treatment
SMTS™ protects homes and commercial buildings against the harmful effects of water intrusion and moisture, and is a potent and safe inhibitor agent of mold, mildew, bacteria, and fungi.
The application of SMTS™ formula does not harm the existing color or surface quality of the surfaces it is applied to. Also, painting over the treatment doesn't affect the products effectiveness.
Many customers who contact us do not currently have a mold problem. However, they want to be proactive and use our preventative treatment to ensure no mold growth occurs, especially in certain problem areas within the house (where moisture levels are high and sustained) as well as outside the home on roofs, sidewalks and other areas prone to discoloration due to mold and mildew. Once applied, we FULLY Guarantee no mold or mildew will occur on the treated areas.
Remediation Treatment
SMTS™ kills a wide range of molds (including black mold), mildews and fungi.